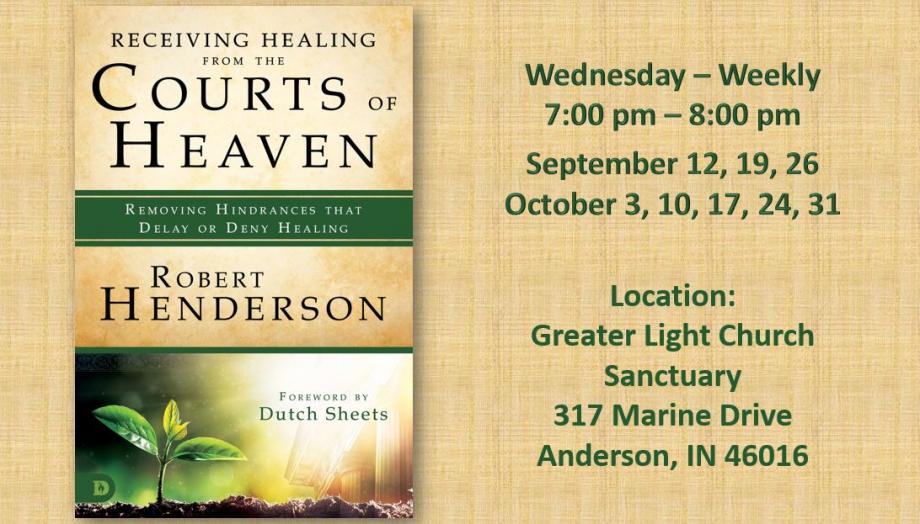 The Bible is clear: God's will is to heal! And yet, believers often pray
for healing and do not receive it.
Why? The answer can be found in the Courts of Heaven.
Satan is the adversary to God's will and God's people.
In the Courtrooms of Heaven, he brings charges against believers
to prevent their healing.
Identify hindering spirits, barriers, and legal rights that prevent healing.

Break curses and strongholds that give satan destructive access to your health.

Pray in a breakthrough dimension according to God's purposes.

Release the healing verdict of atonement from the Courts of Heaven.
The Judge of Heaven wants to grant healing!
Bring your prayers into the divine courts!

Dates:
September 12, 19, 26
October 3, 10, 17, 24, 31

Day: Wednesday Frequency: Weekly
Location: Greater Light Church Sanctuary
Time: 7:00 pm - 8:00 pm Childcare Provided: No
Age: College and above Group: Men, Women, and Couples
Small Group Leaders' Contact Information:
Janeal and Rick Kuhns: rjkuhnskorner@aol.com